Approve or reject provisioning requests
Tyk Enterprise Developer Portal
If you are interested in getting access contact us at [email protected]
Introduction
When an external developer is looking to access a specific API(s) as a part of an API Product, they will request access via the public facing portal.
Prerequisites
A Tyk Enterprise portal installation
A portal admin app login
Log in to a provisioning request sent by an external API consumer
Step by step instructions
Log in to the portal admin app
Navigate to Provisioning Requests
Select which request you want to approve
Click the more symbol and select either approve or reject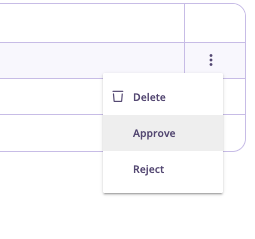 Configure auto approval
You can auto approve provisioning requests. From the Plans section of the admin app, edit a plan and select Auto-approve provisioning request from the Plan Settings. By default this setting is not selected, requiring manual approval of each request. Click Save Changes to enable this setting.